Hello Reader,
This is the free version of our weekly newsletter. The premium version has 16 excellent recommendations, on top of these, of what to watch at festivals, virtual cinemas, VOD, and via streaming. We also spotlight several virtual film festivals worth catching worldwide, featuring films we love that have yet to secure distribution (so this may be your only chance to see them!).
In our premium newsletter for members this week, we recommend more virtual film festival screenings, plus additional VOD, virtual cinema, and streaming recommendations. If you become a member now, shoot us an email, and we'll be happy to send you these recommendations, too!
​​​To receive the premium newsletter, become a Film Adventurer member.​​​
Two worldwide film festivals are happening this weekend: the Weengushk Film Festival of Indigenous films and My French Film Festival - Cannes Edition. There are must-see films at both festivals that are hard to impossible to find anywhere else. Plus, First Cow is finally streaming all over the world (or almost so)!!
Have a friend whom you think would like our newsletter? Feel free to forward this to them and let them know they can sign up for the free version here.​
---
Virtual film festivals
Weengushk Film Festival - July 8-11 - worldwide
This Canadian film festival is showcasing short and feature films from Indigenous filmmakers around the world. We recommend a couple of features, but there's much more to explore in the program! Get an unlimited streaming pass for just $65 CAD.
Kímmapiiyipitssini: The Meaning of Empathy - until July 11
This was one of the very best docs at HotDocs this year, and one of the best films to world premiere in 2021. It's still on the festival circuit, so catch it while you can!
Here's an excerpt from Orla's intro to her interview with director Elle-Máijá Tailfeathers:
Kímmapiiyipitssini: The Meaning of Empathy opens on a herd of buffalo grazing against the gorgeous landscape of the Kainai First Nation in Alberta. As we watch a mother and child buffalo nuzzle against each other, the soundtrack mingles a gentle score with the sounds of a woman speaking to a newborn baby. Elle-Máijá Tailfeathers's Kímmapiiyipitssini is a documentary about the opioid crisis ravaging Tailfeathers's own community of the Kainai First Nation. It's fitting that a film that approaches that topic with such empathy and humanism doesn't begin with sensationalised imagery of harm, but images and sounds of parental love and caring.
In Tailfeathers's own words, "Kímmapiiyipitssini is this Blackfoot teaching that we give empathy and kindness as a means for survival." In keeping with this teaching, her film advocates for the controversial practice of "harm reduction" as a more humane and effective way to treat those who live with substance use disorder. As Tailfeathers explains in voiceover, the most common practice of treating addiction is preaching abstinence, perpetuated by guidance like twelve step programs. But that simply isn't realistic for many people addicted to strong and deadly substances like fentanyl, which entered Tailfeathers's community seven years ago and has since caused countless deaths by overdose. Harm reduction advocates that patients be provided an alternative drug that's safer and easier to regulate, so that they can continue their daily lives without painful withdrawal symptoms.
My French Film Festival - Cannes Edition - until July 17 - free worldwide
One of the first virtual film festivals returns for a special edition of films from previous Cannes Film Festivals. As a general rule, if the film is showing in your country, this means there's no other way for you to catch the film online — so watch these while you can!
​Click here to stream films free worldwide.​
Augustine - Alice Winocour
*available worldwide except in Brazil, France, Israel, Oceania, Portugal, UK, US
Augustine is streaming on Kanopy in the US, Stan in Australia, and available on VOD in the UK, US, and NZ.
Here's Orla on the film:
While Alice Winocour's Augustine was condemned by many critics as just another period romance when it was released, the film is so much more complicated than that. Like Portrait, it is a complex deconstruction of the idea of the muse. The film suggests that the so-called muse has a lot more agency in the creation of "art" than one might think.
In this case, the muse is Augustine (Soko), a teenage patient in an asylum for women suffering from hysteria in 19th century France. Augustine's violent and sexually-charged fits (she writhes and moans on the floor as if in sexual ecstasy) make her the star patient of neurologist Dr. Jean-Martin Charcot (Vincent Lindon). He triggers her fits and shows them off to an audience of men in the medical field in scenes more remeniscent of theatre than science. The film is so much more about Augustine's journey from an object to a subject than it is about Dr. Charcot, and their relationship is not romantic, but rather a complex and erotic power play in which Augustine has more agency than she (or the audience) might initially realise.
Now streaming: a film we love so much we wrote a book about it
First Cow - Mubi UK/AU/NZ and most territories (except Canada + US), Crave+ in Canada, Showtime/Fubo US
We loved First Cow so much that we wrote a whole book about it (and the rest of Kelly Reichardt's work!). If you haven't already seen the film, this is our #1 pick for the week.
​You can purchase the book here​
Here's an excerpt from Orla's review:
Kelly Reichardt's latest film about the myth of the American West, First Cow,follows two men searching for a better life elsewhere that's always just slightly out of reach. Cookie (John Magaro) and King-Lu (Orion Lee) live in 19th-century Oregon, but the film begins in the modern day with a wordless prologue. A woman (Alia Shawkat) and her dog wander the Oregon woodland and uncover the skeletons of two men lying side by side in the dirt. These, we later presume, are Cookie and King-Lu; the film follows their sweet, burgeoning friendship and their quest to fulfill modest dreams, while the spectre of death hangs over their heads.
When I interviewed screenwriter Jon Raymond for
our upcoming book about Kelly Reichardt's work and First Cow
, he said that Cookie is "antithetical to the normal cowboy western character. He is unconventional but also totally ubiquitous in the western film genre. He's never the protagonist per se, but he appears in probably hundreds of movies — for a total of about ten minutes." Working as a cook-for-hire for a traveling fur-trapping group, Cookie is withdrawn and quiet, treated as a social outcast. When two of the men get into an ultra-macho fight over something totally insignificant, it provokes Cookie to hightail it out of there into the busy wilderness. This solitude marks the first time Cookie feels calm, and William Tyler's soothing score seeps into the soundscape.
Get your First Cow merch!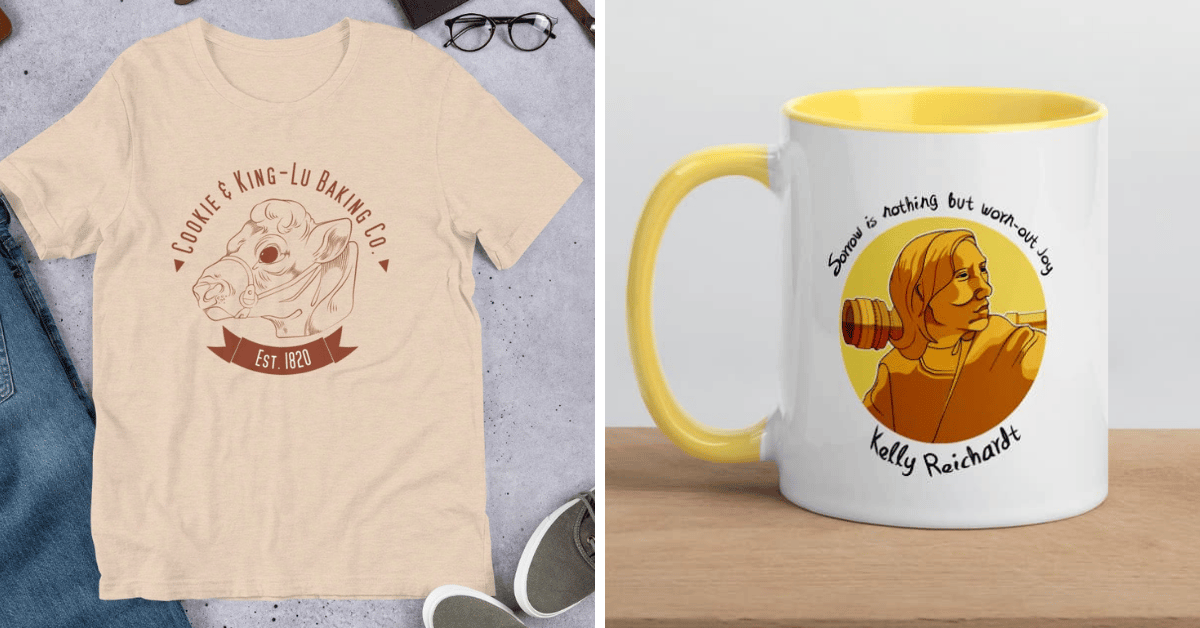 We have First Cow merch featuring an Evie The Cow tshirt, and a Kelly Reichardt mug.
You can also get a piece of merch as a bundle with the Kelly Reichardt book, Roads to nowhere at a discount here.
---
Best,
Alex Heeney, Editor-in-Chief
PS Have a friend whom you think would like our newsletter? Feel free to forward this to them and let them know they can sign up here.​
​
---
Follow us to stay updated!
​
Don't want to receive our weekly digest of recommended films? You can unsubscribe to just these emails so you'll still receive relevant updates from us at Seventh Row.
​Click here to unsubscribe from the weekly digest of recommendations. ​
Or to unsubscribe from all emails, hit the unsubscribe button below.