Hello there,
This is the free version of our weekly newsletter. The premium version has 14 excellent recommendations, on top of these, of what to watch at festivals, virtual cinemas, VOD, and via streaming. We also spotlight several virtual film festivals worth catching worldwide, featuring films we love that have yet to secure distribution (so this may be your only chance to see them!).
In our premium newsletter for members this week, we recommend more virtual film festival screenings, plus additional VOD, virtual cinema, and streaming recommendations. If you become a member now, shoot us an email, and we'll be happy to send you these recommendations, too!
​​​To receive the premium newsletter, become a Film Adventurer member.​​​
As the month comes to a close tomorrow, several amazing otherwise unavailable films are leaving streaming services so we recommend prioritising watching them: Pascal Plante's Nadia Butterfly on Mubi and A Season in France on Criterion Channel. Plus, catch Sweat on Mubi (US/India/Latin America) or on Curzon Home Cinema in the UK, and '71 streaming or on VOD all over the place.
Have a friend whom you think would like our newsletter? Feel free to forward this to them and let them know they can sign up for the free version here.​
---
Last chance: Streaming until Saturday night
Nadia, Butterfly - Mubi worldwide (except Canada/AU/NZ),
It will continue to be available on SBS Movies Australia and VOD in Canada.
Including today, you have just two days left to catch Nadia, Butterfly on Mubi and it couldn't be more timely: set at the now fictional 2020 Tokyo Olympics, it stars real life Bronze Medalist Katerine Savard, who is currently competing at the 2021 Tokyo Olympics!
​The film was our #8 film of 2020, one of our picks for the best cinematography, and we'll be discussing it in depth on the podcast next week. Catch it while you can!!
Here's an excerpt from the intro to my interview with writer-director Pascal Plante:
With
Nadia, Butterfly
, Québécois writer-director Pascal Plante aims to do for competitive swimming on screen what Fred Astaire once did for dancers in musicals: make it all real. Astaire pioneered filming dance scenes in wide shots with long takes so that you could see the dancers' entire bodies and know that they were really doing it themselves. "It's very clear that it's Ginger and Fred who are dancing for their own pleasure," Plante told me. "And then we see them act before and after and we've connected with them through their dance numbers. In many ways we treated those swimming scenes in the way those musical numbers are captured in those musicals." The way Plante talks about shooting swimming reminded me of how filmmakers like
Frederick Wiseman
and
Alla Kovgan
talk about shooting dance, to make it real and present, so you can see what the dancers are actually doing.
Aside from showing us the art of swimming in Nadia, Butterfly, Plante has upended the sports film genre by starting the film with the big competition rather than ending with it. Instead of telling the story of the rigorous preparation required to swim at the Olympics, Plante is interested in the psychological journey of his characters. The film thus begins on the eve of Nadia's final swimming competition ever, at the Olympics, and then follows her for the few days she remains in Tokyo afterward. After devoting more than a decade of her life to being one of the world's best swimmers, Nadia has decided to quit to go back to school and become a doctor.
Orla also interviewed cinematographer Stéphanie Anne Weber Biron about her impressive work to shoot Nadia swimming.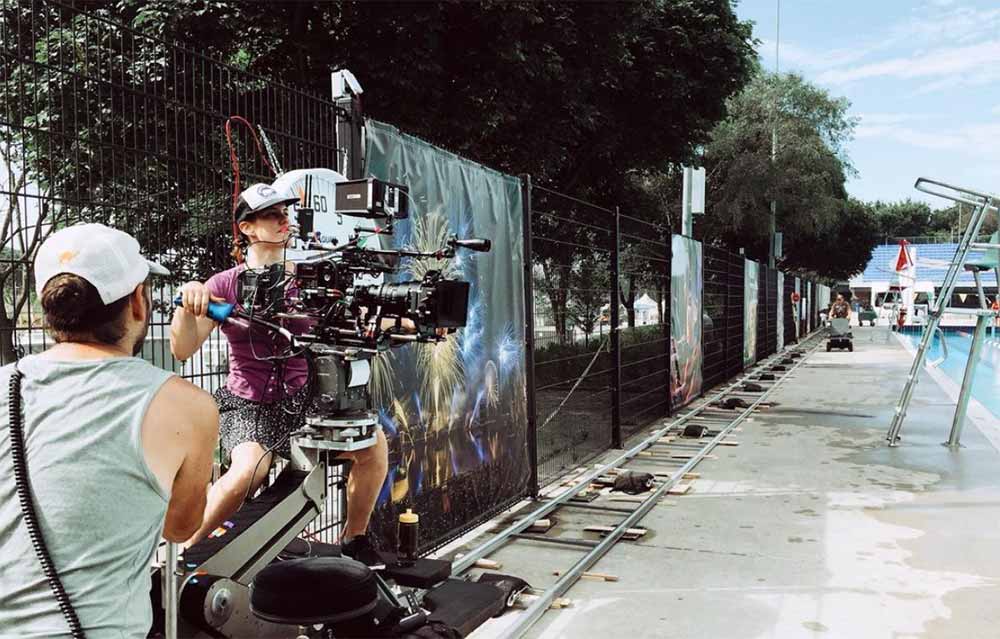 ​Read our interview with cinematographer Biron here.​
A Season in France - Criterion Channel Canada/US
Mahamat-Saleh Haroun's latest film, Lingui, just premiered in the Official Competition at Cannes. Catch his previous film while you can.
His film A Screaming Man is also worth watching, and also leaving Criterion Channel at the end of the month. Although both films are emotionally draining, so if you only have the energy to watch one, we recommend A Season in France as a great entry point for his work.
Here's Elena Lazic on the film from the intro to her interview with the director:
Mahamat-Saleh Haroun has now lived in France for 30 years, yet A Season in France is his first theatrically-released feature not to be set in his native Chad. Ever since his feature debut, Bye Bye Africa — the first feature ever produced in Chad — Haroun has focused on stories set in Africa. Despite the change of scenery, Haroun stays in familiar thematic territory, addressing identity, history, and connections made in a world in flux.
A Season in France follows Abbas (Eriq Ebouaney), a teacher fleeing the war in Central African Republic and seeking asylum for himself and his two children in France. When the film begins, Abbas is already involved with Carole (Sandrine Bonnaire), a local French woman he works with. She is one of several characters around Abbas, who collectively form the image of a culturally rich and diverse France — one that stands in sharp contrast to the less welcoming immigration policies of the country.
New to streaming
Sweat - Curzon Home Cinema UK, Mubi US/India/Latin America
So, right now, it's available in the US, India, and Latin America on Mubi. It's supposed to come to Canada/UK later this year. And it's available to rent on Curzon Home Cinema in the UK right now.
It's one of the best films of the year... and we went deep on it on the podcast last week!
Here's an excerpt from Orla's review:
Every time fitness influencer Sylwia Zajac (Magdalena Kolesnik) posted something on Instagram in
Sweat
, no matter how innocuous the post, I felt nervous. Sylwia is often alone in her comfy, secure apartment when she posts, but there's still a pervading feeling that she's unsafe and being watched; writer-director Magnus von Horn (
The Here After
) often shoots her from afar like surveillance footage. One wrong word, look, or phone camera movement could get her in trouble or give the game away that she's not as perfect and happy as she seems on camera.
Few films have portrayed social media influencer culture as accurately and empathetically as Sweat. The easiest trap to fall into is characterising an influencer as shallow just because the content that they post is shallow; von Horn avoids this at every turn. Played beautifully by Kolesnik, Sylwia feels three-dimensional, a woman who's in over her head and desperate for intimacy amidst the alienation of online fame. She's well meaning, and she's also a very capable business owner — because as Sweat makes clear, being an influencer means being the head of your own mini-business. But just like so many of us, her lifestyle has become reliant on social media to a damaging extent.
​Read Orla's interview with director Magnus von Horn.​
​
'71 - Channel 4 & Prime UK/Ireland, Hulu & Kanopy US, SBS Movies AU, and VOD in Canada and elsewhere
Yann Demange's first feature is now a who's who of actors who have since broken out as major talent of their generation. It stars Jack O'Connell (star of Andrew Haigh's new series, The North Water), but also features early roles for Jack Lowden (Benediction, Dunkirk), James McCardle (Ammonite, Man in an Orange Shirt), Barry Keoghan (The Killing of a Sacred Deer, Dunkirk), Adam Nagaitis (The Terror, Chernobyl), and Sam Reid (Belle) — all of whom are Seventh Row faves! Even Denise Gough has a teeny tiny cameo trying to save Jack Lowden's life!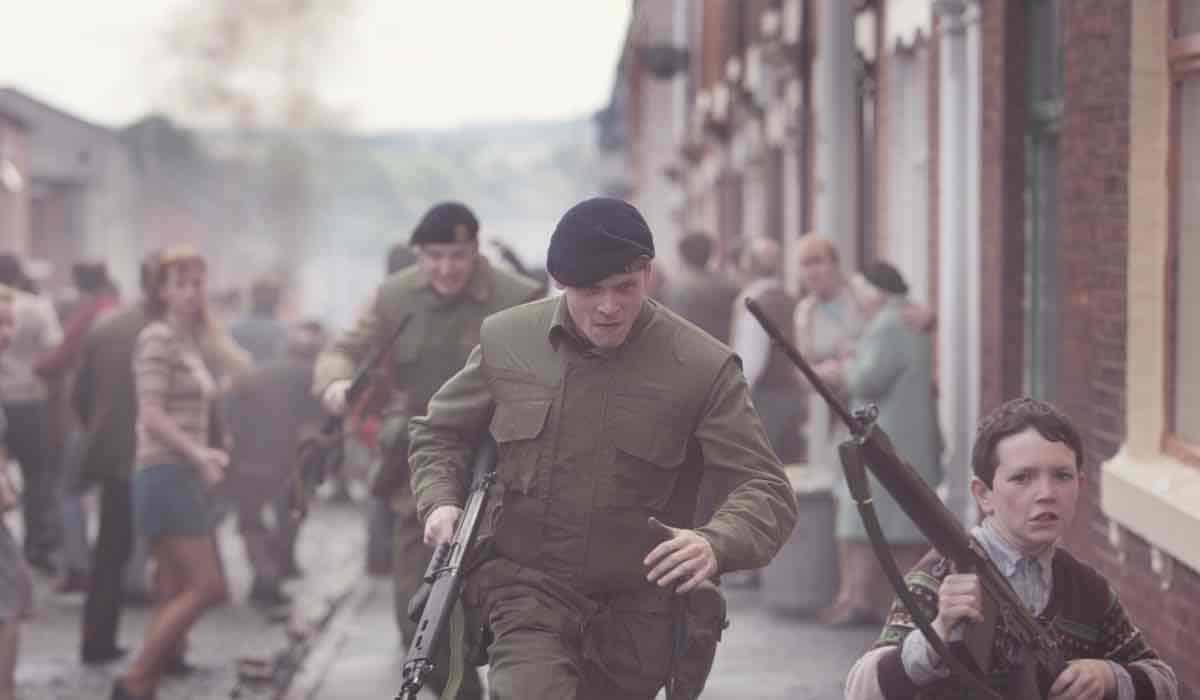 Here's an excerpt from my review:
Yann Demange's tense thriller,
'71
, set almost entirely over the course of one fateful day in 1971 Belfast, Northern Ireland, at the height of
The Troubles
, is both a political and personal film. Told from the perspective of British soldier Gary Hook (Jack O'Connell), a new recruit on the cusp of manhood, sent into battle before he's even finished his training,
'71
looks at the clandestine machinations on both sides of the struggle — the
IRA
and the British Army and
MRF
who sometimes even collaborate and scheme together— but is completely devoid of the history behind the conflict: Gary is too young to understand the years of grief and oppression that caused the Troubles, so what he sees, and what we see, are the ways in which people get swept up in the battle, in the fight, without thinking.
When Gary's unit is deployed in Belfast, and sent to assist the local police on a routine search of a local IRA home, a riot breaks out. In an attempt to recover a gun that gets stolen during the riot, Gary finds himself not only separated from his unit, but badly beaten, lost, and alone, deep in enemy territory. The rest of the film follows him as he struggles to survive the night, when telling the difference between friend and foe is no easy matter. His supposed enemies end up being the ones saving his life. And by the end of the night, almost everyone, including the MRF, wants him dead.
​Read my interview with director Yann Demange.​
---
Best,
Alex Heeney, Editor-in-Chief
PS Have a friend whom you think would like our newsletter? Feel free to forward this to them and let them know they can sign up here.​